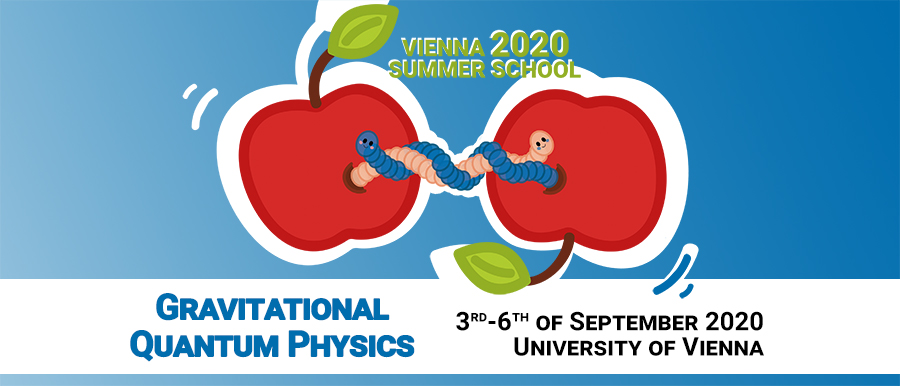 Important Information
Location:
Faculty of Physics,
Boltzmanngasse 5,
1090, Vienna
Registration: 120 EUR
until 14th of June 2020
Optional Poster session
Contact: coqus@univie.ac.at
The summer school is aimed at young graduate students who want to get familiar with the current status and challenges in exploring the fascinating interface between quantum physics and gravity.
The school will provide introductory lectures into the concepts of both general relativity and quantum theory, as well as into the theoretical framework of quantum field theories in and of curved space-time.
The school will also provide an introduction to (classical and quantum) tests of gravity and their relevance for fundamental physics.
Lecturers
Eric Adelberger University of Washington

Caslav Brukner University of Vienna

Georgi Dvali LMU Munich

Renate Loll Radboud University Nijmegen


Eduardo Martin-Martinez University of Waterloo

Guglielmo Tino Universita di Firenze

Bill Unruh University of British Columbia

Robert Wald University of Chicago

Anton ZeilingerUniversity of Vienna

Magdalena Zych University of Queensland

Topics
Concepts of General Relativity
Concepts of Quantum Theory
Precision tests of Gravity
Tests of Quantum Theory
Quantum Field Theory in curved space
Quantum precision tests of GR (lab scale)
Quantum precision tests of GR (astronomical scale)
Quantum Field Theory and curved spacetime
Conceptual Challenges
Quantum tests of Quantum Gravity
Photography and filming
Please note that this is a public event. We reserve the right to take pictures for the purpose of publishing impressions of the event on the website. Lectures may be filmed and made available online for educational purposes. If you do not want to be in a picture or video please approach the organizers of the Vienna Summer School 2020 on Gravitational Quantum Physics anytime.